On my day job as funeral escort, the company I work for is going away entirely from using motorcycles, and going to cars.
I refused.
My boss insisted.
I spit on the ground and said that he could take my bike when he could pry it from my cold dead hands.
He said the effort of prying it from said cold, dead hands was a bit extreme, and told me that if my warm living hands were to purchase the bike and run it as an owner/operator he would increase my pay.
So I'm now the highly concerned and mildly freaked out owner of my very own BMW R1100RTP.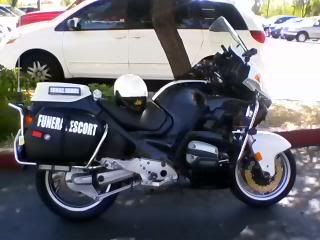 So for a extra *blink* $500.00 a month for the next 9 months my bills have gone up even further.
This is not counting the rather pricey insurance that is required for an escort vehicle.
Still, it's nice to not worry about the bike, as all the maintenance is now handled by me, so I know exactly what kind of condition my ride is in every day.
Fiery Red